To err is human, to forgive, divine. –Alexander Pope
But on the other hand, so is perfection, which is why we seek it.
Mistakes. We all make them. And yet, when it comes to business transactions, it seems fair to say that there are very few of us who have either the time or patience to forgive them more than a time or two. Nearly everywhere you look, there is a fierce competitor chasing at the heels of any given brand. We live in a world in which Better-Faster-Cheaper-Smarter is usually king. That said, there are still plenty of people who settle for "pretty good," a good deal of the time, or who will put up with something unpleasant in exchange for something desirable; e.g., lousy service for killer product. Nevertheless, the same rule applies (and I'll throw in another word): Better-Faster-Cheaper-Smarter-Nicer beats Better-Faster-Cheaper-Smarter. Dig it?
Think of it this way: Joe sells coffee drinks. So does Steve. Both Steve and Joe brew good coffee. They both brew it in a timely fashion. But sometimes Joe forgets what kind of milk you asked for. Sometimes he uses the sugar-free vanilla (and you hate that stuff). And sometimes (and this is the killer) he only gives you one shot of espresso. You need two (you would have gone back for another, but heck, you're already on the freeway). You like Joe, but in the end, you gotta go with Steve. He pretty much gets your drink right every time. And hey, if he messes up once in a blue moon, you can forgive him… plus, he's a good guy.
Great service starts with the way customers are greeted when they enter the door, or call on the phone… or order via the catalog. A company's brand amounts to the perception the consumer takes away from each and every interaction he or she has with your company.
SIGNS YOUR BRAND COULD BE DUE FOR A TUNE UP
Your company's teams/departments are disconnected.
The left hand is moving, but the brain didn't tell it to, and the right hand is in another world, entirely. Something is fishy, here. Everyone needs to be on the same page. What does this mean? Two words: "Tight Ship." You have a crew and a mission. Everyone on your crew has a particular responsibility, and each member knows what that responsibility is and why it needs to be done. At the same time, each crew member is marching to the tune of the mission, because each one understands that he or she will benefit from the greater goal. Does this mean that individual strengths and talents should be dismissed? No. On the contrary, great teams are great because of individual strengths; not despite them.
No one in the company knows what the mission is.
How can this result in anything but certain death? If no one in the company knows what your company's mission is, then that is as good as not having one. Furthermore, making a profit is not a mission; rather, it is what happens when the group works to achieve something more meaningful to all who participate. Great companies attract great people because they essentially wear their mission like an armband. Potential employees know the mission before they are brought on board. Team members are fiercely proud of it because they helped build it, and it rocks. It doesn't sorta rock. It doesn't kinda roll. It brings the house down every time. And the team then says, "That's how we roll." That is the essence of what makes a great brand, and when you have a great brand, you have a great company.
The company has a mission (sort of), but isn't really sticking to its plan, and team members are not engaged.
You have goals. You have plans. But if you were to ask your team members what the plan is, aside from moving pile A from tray 1 to tray 2… would they know? In other words, do they know why they are doing what they are doing, and how it will help to improve things? If the answer is no, then you may have a problem, Houston. Still, you might be thinking, "Every company needs cogs, and lots of cogs don't mind being cogs." Well… maybe… but… did you ever ask them? Because here's the thing: statistics vary, but reports indicate that the percentage of employees who are disengaged is anywhere from 54 to 75%. While you may or may not find such numbers to be shocking, you can bet your bottom dollar that disengagement costs employers plenty. If your troops on the front line ( the people who are the first point of contact with your customers) are thinking about how much they don't want to be there, then you could be sitting on a house of cards. Communication is key.
The Tell-Tale Sign of the Health of Your Business: How Healthy Is your Customer Service Team?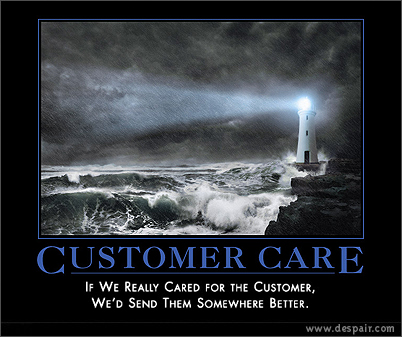 Your CSRs are working harder than all other teams in the company. Their work is never done, and the bulk of it is issuing credits and processing returns. Why are there so many returns? Perhaps it's a quality control issue. Maybe your company designs coveted handbags. One of the inside zippers is broken on approximately 50% of them, but you don't know this yet. You won't know it until they reach your customers, and then they call customer service to complain. If your CSR is able to save the sale, you will likely keep your customer. That's the good news. Complainers are loyal, so long as you solve the problem. According to most reports, approximately 90% do not bother to complain. They simply don't return. So is good quality control part of good service? Of course it is. When things are going smoothly, Customer Service can be used to up-sell to your customers, and to provide you with crucial feedback. On the flip side, when Customer Service is swimming in a sea of mistakes that need to be fixed, they are functioning as a bandage on a wound (reactive vs. proactive).
Less Stress = Better Health = More Time/Space to Be Creative.
Think of it. Things are busy, but the work is manageable, and your teams are happy and engaged. Ideas are flowing. This is what it feels like to be healthy.
So, to all you Harder-Better-Faster-Stronger CreativeBeasts, "Have a nice day." And of course, SEIZE THE PREY.

Tweet This Post