It's kind of like, "I am an entrepreneur. I am an entrepreneur. I am, I am, I am, I AM an entrepreneur!"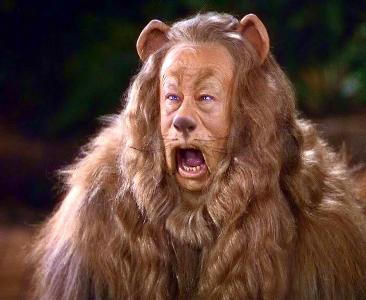 Check out this latest post of Hugh MacLeod's: http://tinyurl.com/ycmzgw8
He offers great insight (so wise). I'm grateful for these thoughts because if there's one thing for sure, it's that when you make the decision to take the plunge, you have all of these feelings. Feelings like, "I'm an idiot." Or, "I'm crazy." Or, "I'm crazy and I'm an idiot." You're leaping out into The Great Unknown. There's no one there holding your hand. You're swimming solo. And you've never done this before. It feels scary and it feels lonely. And it's one of the best feelings, ever.
Hugh's book, by the way, is wonderful and it is one of a few that has had a hand in changing my life. Check it out: http://gapingvoid.com/books/
And if you like that one (and by the way, my guess is that you wouldn't be on this page if you didn't share in these hopes and dreams), here's a few more for you to check out:
Fascinate by Sally Hogshead http://sallyhogshead.com/category/fascinate/
Radical Careering by Sally Hogshead http://www.radicalcareering.com/
Linchpin by Seth Godin http://www.sethgodin.com/sg/
Trust Agents by Chris Brogan and Julien Smith http://www.chrisbrogan.com/where-to-buy-trust-agents/
Why Now is the Time to CRUSH IT! Cash In On Your Passion by Gary Vaynerchuk http://crushitbook.com/
If you're as geeky as I am, you will find parts of these books that will make you cry as you read. So, even if you never truly become your own boss, at least you will have had a good cry or two.
Here are some of Hugh MacLeod's thoughts regarding entrepreneurship, followed by my comments (for whatever they're worth):
1. Everything takes three times longer than it should. Especially the money part.
Thank God I'm not the only one who feels this way. And please, God, would you send me a bit more money, a decent video camera or two, a new Mac, fully loaded with Adobe CS4, Final Cut Pro, etc, etc, an art director, a video crew, an editor, a producer, some advertisers, a SEO expert, an affiliate manager… hmm, what else? Oh, yeah, an accountant… and maybe an extra writer or two. Oh, and about a million or so followers? …Thanks!
12. It's easier to turn an ally into a customer than vice versa.
This one made me think of something one of my best customers once said to me when I sold software. I'll never forget it. I made a mistake, and that was that I over-promised and under-delivered. The great rule of sales and service is just the opposite. What he said was, "Trish, I'm going to teach you something: there's an old saying that goes like this: 'It takes years to win a customer and seconds to lose one.'" Original thought or no, he was right. I felt awful, and that I had not only lost a customer, but a friend. I sent him a most sincere letter of apology, not expecting to regain his business. But guess what? A couple weeks later he called me again, and it was as though nothing had gone wrong. "Wow!" I thought. "I must be doing something right." The funny thing was that when I told my boss about losing him, his response was more or less, "Oh, well." He was the one that had instructed me to make the promise and take the order; i.e., the money. Never again, will I take an order from a client without being able to personally guarantee 100 percent that I can deliver on the product. I like having customers that like me, but more importantly, I need my customers to trust me. Whatever it is that you're selling, your customer needs to feel satisfied with your product and the experience at the end of the day, if he is to return. And if he walks away delighted, he might just tell someone else. On the flip side, if he walks away angry, you can be sure he'll tell someone else. It all boils down to earning trust. That is how you sell your product and that is how you win and keep customers. To hell with dog and pony shows. And thanks, Josh.

25. Bill Gates may have a million times more money than me, but he isn't going to live a million times longer than me, watch a million times more sunsets than me, make love to a million times more women than me, drink a million times more fine wines than me, listen to a million times more Beethoven String Quartets than me, nor sire a million times more children than me. Human beings don't scale.
Find a way to love what you do. Love your friends and loved ones well, and try to appreciate what you have. Life is short, and it's easy to miss the little joys and wonderful moments that sometimes fall before us. One of my Russian friends once said to me, "There is a Russian saying: 'It's better to have a hundred friends than a hundred dollars.'" I told another friend who said, "That sounds like a Russian saying." Maybe so, but I like it. Not that I would turn away a hundred dollars.
For the rest of Hugh's sublime thoughts and witticisms check out his post. Again, here's the link:
http://tinyurl.com/ycmzgw8
And on that note, Creative Beasts, I bid you adieu. Keep dreaming, keep building on your dreams and as always, Seize The Prey. Here's Barenaked Ladies with If I had a Million Dollars. Bein' geeky and keepin' it real.

Tweet This Post
Categories:
art, books, branding, entrepreneurs, entrepreneurship, humor, inspiration, marketing, music
Barenaked Ladies, Chris Brogan, creative beasts, CreativeBeasts, creativity, dreams, entrepreneurship, Gary Vaynerchuk, Hugh MacLeod, integrity, Julien Smith, sally hogshead, Seth Godin, www.gapingvoid.com