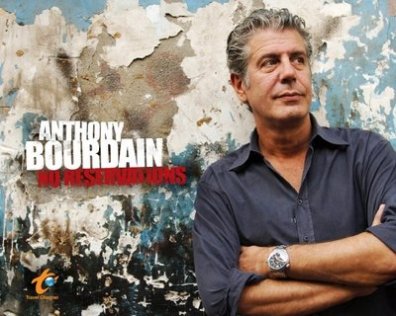 Yep. Watched the same show twice in a row. It was that good. Is "twice in a row" correct usage? Something tells me that in order to make a row, you need three. Aw, heck. Anyway, this No Reservations trip along The Hudson really did it for me. Aside from all the beautiful food, Bill Murray, Michael Ruhlman, the Pardus family, Chef Peter X. Kelly–and Tony Bourdain–there was just something really special about the photography and the storytelling. This is a really good show.
Tony takes us from a crab boil with locals to a brief CIA refresher course with pal, Michael Ruhlman, followed by a meal of Asian pork belly at Chef Michael Pardus' home, complimented by the refreshing insights of Pardus' delightful 10-year-old daughter ("Your job is real tough," she says to Tony. "You stuff your mouth with food."), this episode not only shares a good story/travelogue; it takes us on a scenic culinary journey through an exquisite part of New York (that I, for one, was not familiar with) and gives viewers a little taste of adventure, to boot. It isn't just good TV. It's good reality TV in the sense that it's real people doing real stuff–and doing it really well. It's well detailed, brightly produced and intimately shot. And that is hard to come by.
Topping things off, Tony shares an amazing meal and scintillating conversation with guest, Bill Murray at Peter Kelly's restaurant X2O in Yonkers. Mr. Murray sums things up perfectly: "You're within visual distance of your home. I'm within visual distance of where I've lived for 30 years. What's the meaning of being here in this place? And I know you'll find the answer to that, because you always seem to find it in your programming–what the meaning of it is. What's the meaning of finding a meal in a great place served by people that care… in a place that Henry Hudson came to 400 years ago?"

Neil Young once said, "When I get big, I'm gonna get an electric guitar. When I get real big." He was pretty big then… nevertheless… words to live by. I've always loved his style.
Anyway. Hats off to Neil Young, hats off to Bill Murray and hats off to Tony Bourdain and the crew of No Reservations. And to all Creative Beasts everywhere, Long May You Run.


Tweet This Post