A Russian friend of mine once told me, "There is saying in Russian: 'It's better to have a hundred friends than a hundred dollars.'" Words to live by, perhaps? While it never hurts to have a hundred dollars in one's pocket, having a strong community of friends is something that is difficult to put a price tag on. It's amazing how it often seems to go, that when you give a little, you get a lot.
Thursday, I had the serendipitous fortune of running into some dear friends at the local cafe. We shared great conversations that gave me fresh ideas on approach, and left me feeling inspired and energized. That's what I would call a good day. It's what I would also call "invaluable."
First, was coffee with Stanley–an old friend who was once a photographer, now a painter–always an artist. We talked about the struggles and challenges that creative types face, and how communities come into play. Artists and creative thinkers of all kinds are typically afflicted in some way, with both a need to create, and the standard animal will to survive. The need to create, or to transcend our existence as we know it, can lead us to all sorts of places. Some are dark and deep, some are thoughtful and fresh, some maddening, and others, though more rare, are brilliantly spectacular and enlightening. In many instances, creative journeys are solo ones, and thereby lonely. You work at your craft, whether it's painting, writing, making music or developing theories. Sometimes you hate it. Sometimes you don't know why you do it. Other times it thrills you. And feedback can equally be a bitch. Something–anything, at times–is rewarding. Someone can say, "Man, you suck. Give it up!" And maybe you've been waiting so long for any kind of commentary, that even that can evoke a feeling of gratitude.
"Wow. That guy hates me," you think. …Cool!"
Stan and I talked about the varying value of different communities. What is a community? "Sharing, participation and fellowship" is one definition. For some, that can exist at the local tavern, but then that begs the question, "What is it that ties folks together?" Hopefully, it isn't alcohol, though in some instances, that is clearly the case. With creative minds, I believe it is the underlying knowledge that we all struggle with a similar form of craziness, and part of that is the need to create. From time to time, this may actually end up surfacing as a clinical diagnosis such as bipolar disorder, A.D.D. or obsessive compulsive disorder. Interestingly enough, these so-called disorders are generally regarded as problems that need to be corrected. And yet, isn't it interesting that many of the world's most gifted–and frequently celebrated people–are in some senses, and for all intents and purposes–a little bit crazy? So what's their secret? Stanley and I agreed that mostly, it's work. Blood sweat and tears. Hours and hours of working one's craft (which, by the way, is one way in which O.C.D. can come in handy). Work is the difference between the ones who break through to reach a certain level of alchemy, and everybody else. Van Gogh, Picasso, Einstein and Edison all approached their work with a manic level of intensity. Stan said that the value in having the chance to do the work you want to–or maybe that you were meant to, in life–is golden, compared to having a bunch of stuff, such as four car garages, lawns to mow and more TVs than you know what to do with. So it's mostly work, and maybe after all the time you've spent preparing for some moment to arrive–a little bit of luck–and then there's friends… community.
Genius is one percent inspiration, ninety-nine percent perspiration.
– Thomas Alva Edison
So what happens to the others that take a less obsessive approach? All kinds of things–and sometimes–nothing. Some join into the corporate dynamic and make that world work. Fantastic. Some flop around like fish without water, going this way and that. Some cling to the bar community because it helps them to feel more… normal. Some find a way to neatly blend different worlds, which is remarkable. Whatever the case, it's safe to say that the balancing act is usually rather precarious, and hey, finding one's groove can take time.
When Stan and I parted ways, I was on my way out the door, when someone called my name. I turned to the table I had nearly passed. It was my dear, long-time friend, Fred; a graphic designer, artist and wordsmith. He beckoned me to sit and chat, and it was then that I decided that this day was meant for creative friends and conversations, so I did. He started by asking me what was up, and where had I been… usual ice breakers. I said that I had been laying low, and then added–"Well… I've been sorta poor, lately."
"What? You've been boring?" he asked, wide-eyed.
"Ha. No, I said, 'poor.'"
"Oh, I thought you said, 'boring!' I'd rather have you be poor than boring," he quipped with a grin.
That simple statement made my day. And it led me to decide that I will never again in my life, state that I am or have been poor. I may not have a hundred dollars in my pocket to flit, but my friends–my loved ones–my community–make me insanely wealthy. My humble and deepest gratitude to you all.
What else? Oh, yeah: SEIZE THE PREY.
p.s. Febuary 7, 2011: I subscribe to http://GapingVoid.com/ to receive Hugh MacLeod's daily cartoons via email, and this one, entitled, "The Hunger," came in today: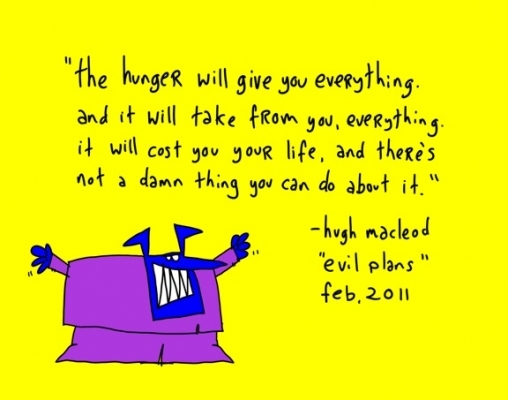 …I can't help loving that it's right in sync with my post, here, down to the very titles. Hugh has inspired me with his cartoons and words on countless occasions, and I am seriously excited to get my hands on his new book, Evil Plans, to be released February 17th, 2011. Congrats, Hugh!

Tweet This Post
Categories:
art, community, creative process, inspiration, music
art, artists, Blackbird, community, creative beasts, creative careers, creative types, creativity, The Beatles, work