Curve balls. We all get them from time to time. It could be the loss of a job, an important possession or asset, a partner, a friend or a loved one. Or a cancer diagnosis. Such things aren't easy to take, and they can certainly take us by surprise. We are suddenly struck by an unforgiving and unfeeling force, and sometimes we are given no explanation or reason as to why it occurs. When it happens, it's as though the rug has been swept out from under us, and that instability can be frightening. But it doesn't always have to be. The tides ebb and flow, and so must we ride with them, or be pulled in. It's times such as these, when the truly creative show their true and brilliant colors. It's about getting lemons and making lemonade. And yes, that is one heck of a "Pollyanna" cliche, but so what? Playing "The Glad Game" not only energizes the spirit; it builds strength and stamina, and in the end, it makes you smarter and stronger… it makes you a better problem solver… and hopefully, a more loving human being.
Adversity creates pressure, and a couple things can happen from there. Pressure has the ability to crush or overwhelm, but depending on the individual and how he or she responds to a particular situation, there are infinite possibilities in terms of outcomes. Again, faith comes into play, and the ability to see things in ways that provide opportunities… and solutions.
At this time, I would like to share with you an amazing story about an amazing little boy whose time here on Earth was short (he was with us for only six years), but whose light was so bright, it will be remembered and carried on for many years to come, and in fact; will likely grow brighter and brighter. His name was Pablo Castelaz.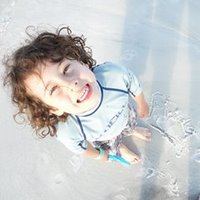 Pablove Across America – When Out of Loss Comes Love.
He was the son of Jo Ann Thrailkill and Jeff Castelaz, and the little brother of Grady Gallagher. On May 17, 2008, Pablo was diagnosed with bilateral Wilms' Tumor, a rare form of children's cancer. The cancer appeared out of nowhere, with no warning signs in Pablo's general demeanor or health. He underwent treatment at Childrens Hospital Los Angeles. On June 27, 2009, Pablo's individual fight with cancer ended. But we fight on in his name, with the spirit of love that Pablo embodied and inspired.
Needless to say, Pablo's passing was a tremendous blow to his family and beloved friends. When someone so young, bright, beautiful and full of life is suddenly taken from us, we are left wondering how and why the greater powers of the universe can manifest something so seemingly senseless. This sort of loss is just the kind that either wields the power to destroy or transform. Everyone who knew Pablo was touched by his loving spirit, and the same is true even for those who didn't know him–and this continues to be the case. That being said, destruction and despair were not options for Pablo's family and friends. The love is too great; and therefore, can only result in a transformation that results in something more meaningful: a passionate race to save the lives of others, and to make the world a better place; also known as Pablove Across America. The mission is simple: 3000 Miles. 30 Days. 1 Fight. A salute to Pablo, Jeff and Jo Ann, Lance Armstrong, the cyclists, and everyone else who fights to keep dreams, hope and happiness alive. May love forever reign. To see how you can join in the race and fight against childhood cancer please visit http://www.pablove.org/donate/ .
The last day of the ride is Saturday, November 21st (of '09). Any and all cyclists who wish to join in are encouraged to do so. Visit http://www.Pablove.org/news/ for details.
This goes out to the cyclists on their journey–inspiring tunes help!
Mike Snow – Animal


Tweet This Post