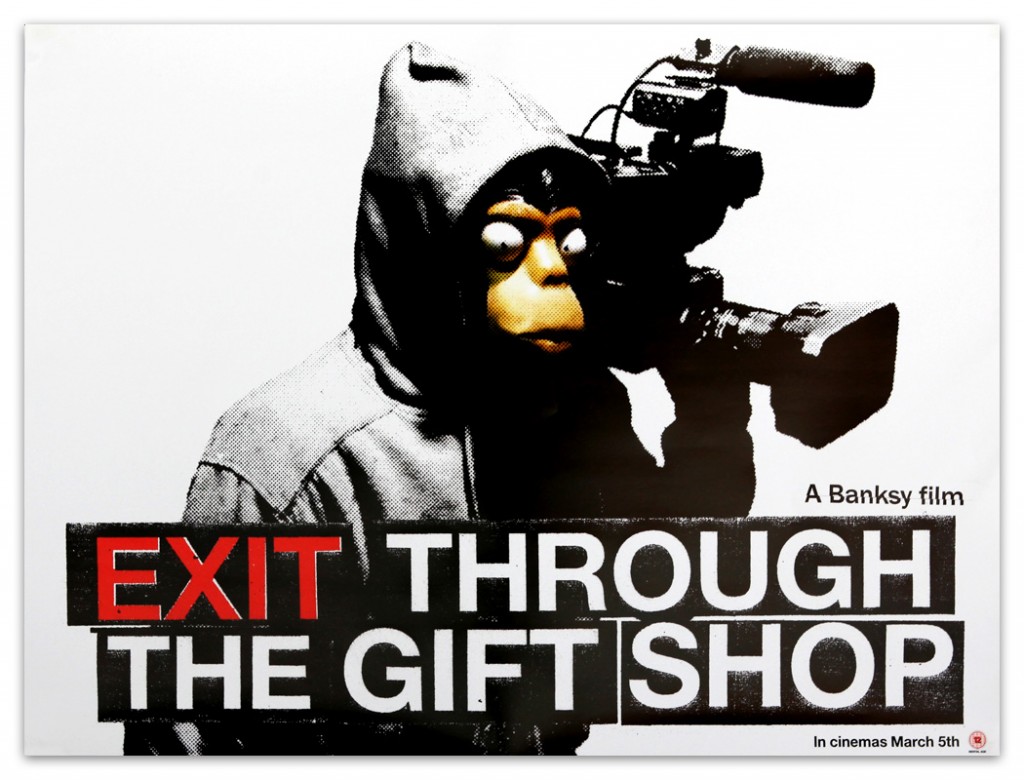 If you haven't seen the film, Exit Through the Gift Shop is a must-see for every Creative Beast. Seriously–it's your homework. What a mind-blowing story, and how well told it is. It's got me spinning on several notions: 1) Anything is possible (especially with a bit of work and muscle behind it) and 2) to complain about the things that stand in one's way as a creative person is an absolute and utter waste of time; especially when there's so much work to be done and 3) might of most kinds–is mightier than money.
What makes great art great? Is it partly great marketing? Is great marketing simply great art? This is a film about a shopkeeper cum filmmaker cum artist. From this portrayal of the life of Thierry Guetta, a.k.a. "Mr. Brainwash," I would surmise that it's all of the above. Based on his works as a painter/street artist, the idea that he has come up with something earthshaking is questionable. On the other hand, it can be argued that the act of successful reinvention is alchemy at its finest, and indeed, a fine work of art. When MBW is viewed from this perspective, he tends to turn the art world on its ear. The film tells a few different stories; one being the life of Thierry Guetta, two being the emergence of the street art movement, and three being the life that art has all on its own, and how human beings respond to it. Perhaps what is most fascinating is the movement–or rather the motion of the artist, himself. What is it about art–and particularly, what is referred to as "High Art"–that makes it valuable and so deeply coveted? Is it the idea that it generally deals with things that are intangible or unattainable? Is it that it holds something that is thought to be magical and otherworldly? If so, then of course, it makes complete sense that by virtue of owning a piece of such magic, one is thereby and in effect, made magical as well.
Creative Beasts are, without question, splendid and magical creatures. Or are they? Through Guetta's lens, the film takes us on the journeys of several great street artists from different parts of the globe. We are shown that part of what makes their work revered by so many, is the sheer fact that they are a bunch of wild outlaws using public and private property for their canvases and materials, which automatically makes for instant intrigue, along with imagery that often challenges the status quo at its core. Guetta, for the greater part of the film, is shown as an observer–recording the images and scenes of his world, and those of the street artists he follows, especially that of the great Banksy of London (director of Exit Through the Gift Shop). In the end, the story almost plays like a sting, orchestrated by MBW, himself. We are then left with the question, "Was it intentional on his part? Or is he truly a fool among fools who somehow manages to get the last laugh as he innocently steals the bag of tricks from the artists/magicians he is surrounded by, and then uses them to take the art world and greedy collectors by storm, thereby making a farce of the entire scene. In the end, he ingeniously confounds one and all. That, my dear Creative Beasts, is beauty to behold. Smile and get on with it. The rest is simple: SEIZE THE PREY.


Tweet This Post