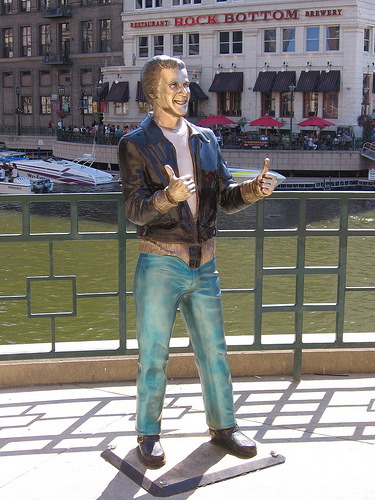 Spring is in the air, here, in good ol' Cream City, or as one of my nerdy pals likes to call it, "Old Milwaukee." I think just for Ss & Gs, we should crank it up one more notch and call it, "Ye Olde Milwaukee." Things always sound so much older when you put a "Ye" in the front, and an "E" after the "D." Hells, yeah. Incidentally, there used to be a place down the road from me called, "Ye Olde Dinner Bell." That place was so olde, I'm surprised I can even remember it. Ah, well. Seeing as how today is Friday, I thought I would have a little fun with Ye Olde Creative Beasts. Hunted for some viddies of some of the worst (or best, depending on how you look at it) local TV ads ever made. I couldn't find the Milwaukee ones I was hoping for (anybody got Doc's Fine Jewelers?), but here are a few fun ones nevertheless, along with my 1-5 star rating:

3 Stars.

Pretty frickin' awesome. 4 Stars.
And this guy… Rudy. How could you not buy a car from him? Or get a pap smear? He's adorable!

Ciento por ciento, excellente. 5 stars.
Okay, well, that's about all the time we have today, Creative Beasts. Go on and get your nerd on. Happy Spring, Via con Dios and/or SEIZE THE PREY.


Tweet This Post