They Call It Understanding.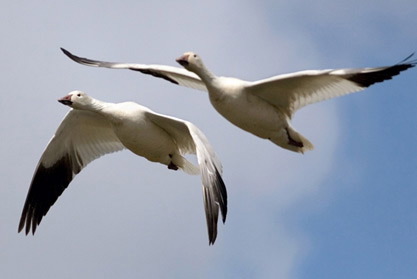 Snow geese in flight.
The past is history. The future is a mystery, and this moment is called a gift. That is why this moment is called 'the present.'
Now I get it. Or at least maybe I'm getting closer.
Some things aren't meant to be, or perhaps just not meant to happen at the exact moment that we would have them occur. Once this is understood, things can get easier. Deepak Chopra refers to this concept as The Law of Least Effort. He says that (and I'm paraphrasing) nature always follows the path of least resistance.
Grass doesn't try to grow. It grows. Birds don't try to fly. They fly.
The first time I heard that, it sent shivers down my spine (in a good way).
Here is a quote from Jesus (Matthew 6:28) which I believe is the same idea (this one's for you, Liza):
So why do you worry about clothing? Consider the lilies of the field, how they grow: they neither toil nor spin; 29and yet I say to you that even Solomon in all his glory was not arrayed like one of these. 30Now if God so clothes the grass of the field, which today is, and tomorrow is thrown into the oven, will He not much more clothe you, O you of little faith?
I think this notion has a lot to do with success–in fact, almost everything. Talent and smarts are great, but faith, timing–and understanding timing–make a world of difference. Think of a baseball pitcher. Now, let's say that this pitcher throws an amazing curve ball, and maybe he really likes throwing curve balls. But maybe the curve ball isn't always the solution he needs to achieve his goal, which is to strike out the batters. In order to apply the best approach to any given situation, one must apply understanding which comes from awareness. Very successful people don't waste time tarrying about and carrying on. They are often quick to measure how well their energies are being received, and from there they determine what the appropriate next step should be. This is how some of the greatest systems have come to be.
Here's Bob Seger with Understanding.

Have you ever been driving on the freeway at a moment at which all the drivers seem to be moving in sync? Traffic just flows and it seems like a well orchestrated symphony. Then other times, not so much. Life can be similar. On one day your movements and actions might match or compliment those around you, and might be very well received. You are happy and those with whom you interact are happy. Other days, nothing seems to work as you might have expected or hoped for. This is where creativity comes in. You are aware of your situation, and so you make notes, and then adjustments.
I'm a writer. Words matter to me and I know that words can change the world. Not everyone agrees. Some people don't think words hold much value or maybe they simply don't remember how words may have impacted them. They might have sung New Years Day at the top of their lungs at a U2 concert once upon a time. They might have worn a Nike T-shirt bearing the slogan, Just Do It. And they probably felt something at the time… something like connectedness. Somewhere else at that time, someone else was listening to something else, and someone else was wearing a different shirt. My point is that we aren't all on the same page at the same time, and that is OK, and in fact; it is just as it should be. But when we are on the same page–even if it's just two people–it can be great… magical, even. And great and magical things can happen.
A great deal of time and energy can be wasted in an attempt to gain things like acceptance, attention, praise and even love, but such things can never be forced if they are to remain genuine. The best situational outcomes occur when things happen genuinely… naturally… and when the timing is right.


Tweet This Post